Wallpaper is the most common way to decorate walls and interior surfaces next to surface paint. In 2021, wallpaper is going through an age of revival due to improvements in material technology in the industry.
The recent developments in adhesives, textures and patterns allow for near natural looking wallcovering designs that replicate natural materials and textures.
Today, wallcoverings have replaced traditional wallpaper as they are more durable, easier to apply and cost a fraction of the cost of traditional resurfacing / remodeling.
Brief History of Wallcoverings & Wallpaper
Originating in Europe, well over 500 years ago it is well known by everyone globally as it has been through it's rise and fall in popularity throughout the 19th century.
Throughout time it has been given a reputation of something as a cheap imitation and disposable in a sense that it goes up , it comes down, and gives opportunity to start over again.
Wallpaper comes in hundreds of thousands of patterns and has been mass produced for many years. With mass production comes a lack of creativity as the best patterns tend to be copied; limiting the unique appeal to designers.
Alistair McAuley and Paul Simmons — better known as Timorous Beasties — are a cult favourite with interior designers, and arguably the most forward-thinking textile and wallpaper designers of their generation. This powerful duo confirm that technology is a key influencer in the rise in wallpaper in their generation.
The digital age has enabled wallpapers to be designed in new and imaginative ways that previously were not possible.
We have pushed the boundaries of what is possible with wallpaper design, but also we have shown how wallpaper can be used in different ways in an interior space.
The march of luxury design has seen brands such as Hermes, Versace, Roberto Cavalli, Louis Vuitton and Christian Lacroix stretching into the wallpaper market. The papers are available in all the traditional styles – botanicals, florals, textures, rock styles, damasks, panels – and they have made their way into many a show-home.
They are "a way to partake in a luxury brand," says Charu Gandhi, founder of the luxury design house Elicyon that uses papers from Philip Jeffries, Hermes, Fromental, De Gournay and Arte, among others. "I am a great fan of wallpaper as well as fabric paneling. It cocoons a space and has wonderful acoustic qualities. It can be playful or powerful, subtle and flexible."
Wallpaper was for a long time the traditional wall covering
Decorative paper-like material used to cover the inner walls of buildings
Wallpaper is always made from paper and is applied with a separate adhesive
A material, primarily used for the decoration of interior spaces
A general term for a covering for a wall, such as wallpaper, vinyl wallpaper, etc.
A wallcovering is simply a category to classify the many available coatings for a wall
Wallpaper is the traditional form of wallcoverings 
Typically modern surface finishes are classified under the wallcoverings category due to their improved material qualities
Today, most wallcoverings are not made with paper and typically made with vinyl due to improved durability and ease of use
Types of Wallcoverings
According to the official regulatory group for wallcoverings, Wallcoverings Association, wallcoverings can be classified into 6 categories and types. All of the below definitions are provided by the Wallcoverings Association.
Vinyl Coated Paper
Wallcoverings that have a paper substrate on which the decorative surface has been sprayed or coated with an acrylic type vinyl or polyvinyl chloride (PVC).
Solid Sheet Vinyl
AKA Paper Backed Vinyl – paper (pulp) substrate laminated to a solid decorative surface – Durable due to decorative surface being solid.
Fabric Backed Vinyl
Wallcoverings that have a woven substrate of fabric or a nonwoven synthetic substrate.
In either case, the substrate is laminated to a solid vinyl decorative surface.
Wallcovering Technical Classification
Type I (Light Duty)
 is designed to be used in areas of light to moderate traffic. Typically the weight is between 12 and 19 ounces per linear yard.
Type II (Medium/Heavy Duty)
is for use in high traffic areas, such as corridors, public spaces, schools, etc.  Typically the weight in this category will be between 20 and 28 ounces per linear yard.
Type III
is for use in most heavily traffic areas where greater wall protection is needed. Typically the weight in this category will be between 33 and 36 ounces per linear yard.
Canadian Wallcovering Companies
North America has seen the biggest increase in the use of wallpaper and wallcovering films – As seen by the latest trends in wallcoverings. Vinyl based wallcoverings are the most common and come in 1000's of textures and designs mimicking live textures such as exotic stones, rare woods and precious metals.
Many Canadian wallcovering manufacturers are creating films to replicate natural materials that are hard to replace such as exotic stones and woods. This allows people to enjoy the look of these textures without the high cost and negative environmental impacts!
3M™ DI-NOC | Canada's Most Trusted Wallcovering
Sustainability is a huge trend in 2021 and is going to only rise in popularity as more people around the world as consumers become more aware of their ecological footprint. One company, 3M™, has always been committed to their sustainability efforts has created a wallcovering that allows designers to mimic natural textures using a vinyl wallcovering.
Wallcoverings Statistics & Market Analysis
According to Strategyr.com – a real time marketing analysis platform, the Global Wall Coverings Market is to Reach $39.4 Billion by 2027.
The Wall Coverings market in the U.S. is estimated at US$8.3 Billion in the year 2020.
List of Influences on the US & Canada Wallcoverings Market
The following is a list of some Canadian wallpaper & wallcoverings predictions for the period of 2021-2026.
Some notable influences to their rise in popularity as described by Mordor Intelligence:
Increasing disposable income and a rapid growth in urbanization
Residential constructions account for a substantial market share in the wallpaper market
The advent of graphic designing, along with new reproduction capabilities, wallpaper is set to become the next big disrupter in the world of design and décor.
Recently, some of the regions of emerging economies of Europe witnessed a considerable rise in the demand for textile wall coverings, owing to which, there has been an increase in the number of imports of textile coverings.
According to the Office of National Statistics (UK), the industry revenue of floor and wall covering in the United Kingdom in the year 2024 will rise to USD 5,410 million.
Nevertheless, the development of products, such as wallpaper borders, custom wallpaper, and textured wallpaper, is expected to renew the stagnant product category
Advances in wallpaper technology, which make these products easier to apply and remove, are expected to expand sales opportunities, thereby, fuelling the market growth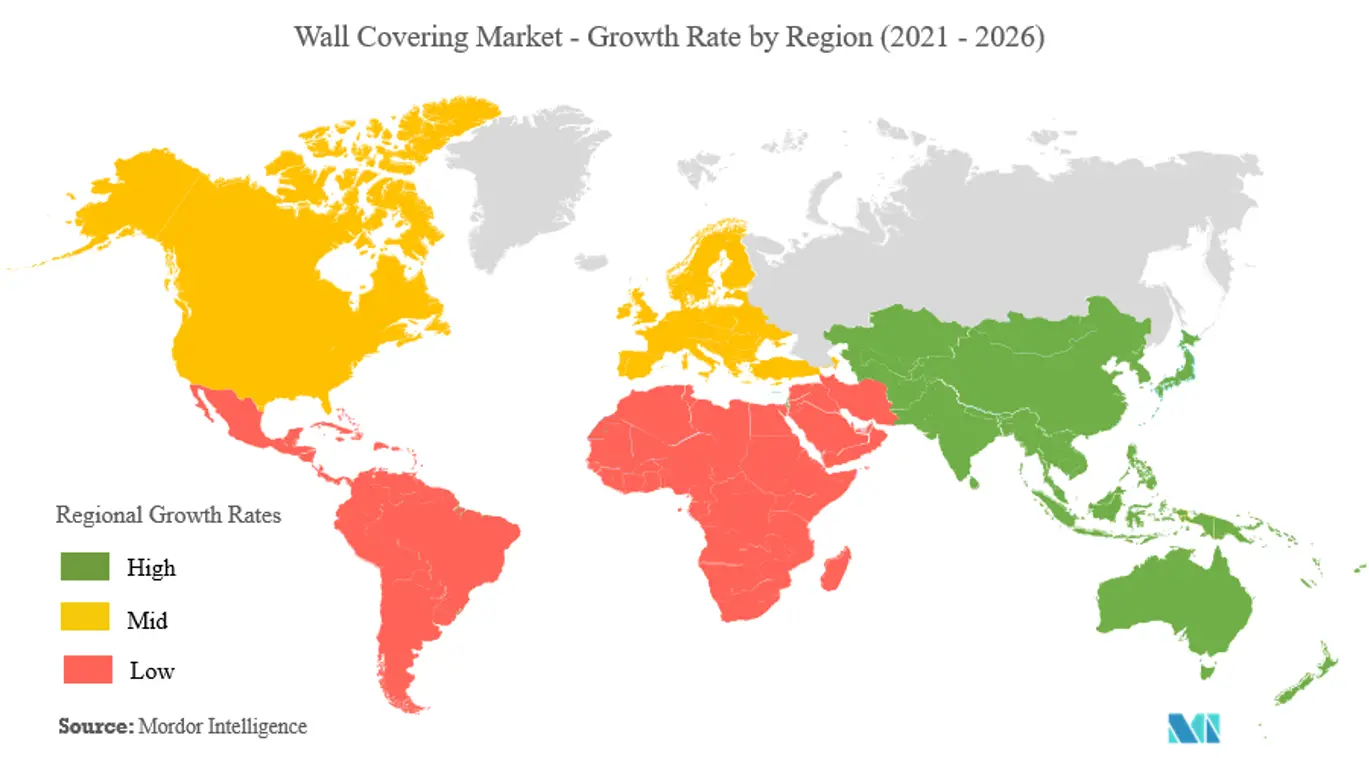 Wall Panel is Expected to Register a Significant Growth
Panels include wooden panels, wood wallcovering and laminates, which are used for covering walls effectively, while also providing protection from the external environment
The usage of wall panels can reduce the construction costs significantly by providing a consistent appearance to the paneled surface without the requirement of application of paint or some other finishing material
The growth of the construction industry, owing to urbanization and simplified utility, along with lower costs of insulated wall panels, is expected to drive the demand
Advancements in the market have been in the form of insulated wall panels, which provide superior and uniform insulation, in comparison with more common methods of house construction
Can be used in almost any architectural setting – Greatest advantage of these panels is that they offer superior and uniform insulation VS common methods of house construction
End-user also benefits from the ease that these panels offer, as the wall is easier to clean and maintain
The growing investments in the hospitality sector, owing to increasing global tourism, is poised to impact the market studied, over the forecast period
Used as alternative to ceramic tiling in both kitchens and bathrooms
Developments in design and technology have combined to produce high-quality finishes, textures, and colors, which work with any style of property
North America is Expected to Hold Significant Market Share in Wallcoverings
In the United States, for instance, the public residential building's construction spending rose from USD 5.07 billion in 2014 to USD 6.55 billion in 2019, according to the United States Census Bureau. With this, huge investments were made in home décor and home improvements, in the United States, which propelled the wall covering the market in the country. The similar trend of rising residential constructions, owing to the increasing population across the world, is expected to drive the demand for wall coverings.
Also, the commercial construction sector is on an upswing. According to the FMI Corporation, in the United States, the new commercial buildings are expected to value USD 99.42 billion in 2021 from USD 47.33 billion in 2012. Furthermore, technological advancements in wall coverings, Canadian wallpaper company such as inkjet painting (which is expected to mimic the texture, design, and look of natural wood and stone) are expected to boost the market growth in the region.
North America is witnessing Flavor Paper, a New York-based wallpaper company, has stepped into the niche area, where a selection of readily available images can be sized to fit specific dimensions or customize the wallpapers by taking buyers' high-resolution digital images and turn them into full-scale wall murals. According to the US Census Bureau, the Paint and wallpaper store sales in the United States in the year 2018 was USD 12.51 dollars which was a 6% increase compared to the prior year.
According to the US Geological Survey, wallboard product sales in the United States in 2019 were 24,000 million square feet which is a clear indicator of an increasing demand of wall panels from consumers for wall panels in one piece, from wholesalers, DIY markets, architects, and contractors in the region. Moreover, these panels are common in commercial spaces, bathrooms, and toilets.
Strong, Durable, and Long-Lasting are just a few characteristics of 3M™ DINOC™ – The leading Architectural Surfacing Films in Canada & USA. From the success of their 1080 and 2080 series vinyl films in the automotive industry the latest addition to this collection.
The durability, easy application and beautiful look of their automotive wraps ensures that the same quality is consistent in their architectural line of films.
The benefits of using 3M DI-NOC films are endless. The fundamental idea of this film is to re-use existing surfaces and interior conditions by re-surfacing them with an adhesive coating.
Benefits of 3M™ DI-NOC™ Wallcoverings
Remodel and Reuse — Shortens refurbishment downtime and brings entirely new designs to existing assets.
Easy Application — 3M™ Comply™ Adhesive technology virtually eliminates bubbles, simplifying and speeding application
Architectural Finishes – Offers opportunity to incorporate salvaged materials into project design to expand the arena of material reuse
In health care facilities, DI-NOC is ideal for use on many surfaces; and any areas where design, durable function and cleanability are needed.
Less downtime, noise and mess means minimal impact on the experience of employees, customers or tenants who use your space.
Lower cost than many traditional materials like wood, marble and textiles, you can create an affordable yet high-end design
Keep your surfaces clean and properly disinfected – Tested with typical commercial cleaners as well as EPA registered disinfectants
Newest Wood Wallcovering In Canada & USA | DINOC
Repair – DI-NOC's versatility, easy maintenance, and durability against normal wear and tear keep your space looking fresh for the long term.
Routine removal of dirt requires only mild detergent; water; and a soft, nonabrasive cloth or sponge to help keep your space looking fresh.
DI-NOC finishes are much easier to repair than wood or veneer, and repairs are virtually invisible at normal viewing distances.
For Designers – Allows to create a multitude of visual experiences with the added assurance of 3M's time-proven experience
Easy to incorporate in your space – Keep your building beautiful without inconveniencing your guests
With over 1,000 patterns to choose from and the look of beautiful natural materials, design is limited only by your imagination.
Easy on the budget – Versatile DI-NOC Architectural Finishes give you an easy, cost-efficient way to create new spaces
The Best Wallcovering Brand | 3M™
DI-NOC finishes let you update existing surfaces creating less landfill waste to help achieve your sustainability goals.
Don't delay your project — DI-NOC helps you renovate or refresh your space even if budgets are tight.
Easy to clean, maintain and repair – Clean and disinfect with no deterioration of the surface finish.
Durable, nonporous surfaces are easy to maintain and won't be damaged by typical commercial disinfectants.
Find the right surface finish – DI-NOC has versatile, durable, cleanable finishes for a wide range of facilities.
Avoid business disruptions – when you create a new space or refresh an existing one with DI-NOC finishes — almost overnight.
Reduce & Re-Use – Lower the amount of items sent to the landfill by reusing the existing stock of walls, doors and frames & built in furniture
Canadian Wallcovering Brands
When there are so many wood wallcovering companies in Canada and USA to choose from it becomes a difficult choice to find the right one. Fortunately, Sustainia offers the best selection of Canadian wallcoverings; available for all users – from hobbyists to professionals. With so many options available on the market, we focus on stocking exclusively the most sustainable finishes & wall coverings in North America!
3M™ DI-NOC™ | Architectural Finishes
This is the "top of the line wallcovering with a wide range of wood wallcoverings in Canada. 3M™ combines a near ever-lasting durable film that boasts the latest innovations in the wallcoverings industry. For example, their latest "matte series" was developed in collaboration with leading designers from across the globe. These new, trend-setting patterns feature fingerprint resistance and a high definition embossing technology resulting in vivid textures. The matte series is also capable of converting incident light into diffuse reflection – providing very low gloss and a deep, high quality matte texture.
DINOC™ offers design freedom – Unlimited creative flexibility and design freedom at reduced cost, compared to traditional materials used in construction and refurbishment. Quality and Durability – Perfect indoors and out. On flat surfaces, or over complex curves. Perfect for walls, ceilings, furniture, or fixtures. 3M DI-NOC has excellent resistance to water, dirt, and wear. Covered by a 12 year warranty for indoor applications!
Where to Buy Wall Coverings & Sustainable Finishes in Canada
With the current COVID pandemic, many online retailers are starting to promote their inventory online. The most popular places to shop wood wallcoverings are: Sustainia, Home Depot, Walmart, Bed Bath and Beyond and of course – Amazon. The foundation of Sustainia revolves around the supply of sustainable finishes & products for the architectural and interior design industry.
Our exclusive brand offerings are offered to retail customers in the same platform as professionals – All users get equal access to material resources, tutorials, pricing, and data sheets. By giving all of our users equal access to resources and pricing, we aim to promote the overall use of these available sustainable finishes & products in Canada.
Why You Should Use Wallcoverings in 2021
With the rise in Canadian wallcovering technology – Many popular brands such as 3M and LG developed their own line of sustainable finishes & wallcoverings
The following is a list of 6 reasons why you should be using or offering wallcoverings to your clients
1. Wallcoverings Capture Your Style and Vibe
Wallcoverings make a statement – For many people this can be intimidating. Many of us just aren't accustomed to making a statement when it comes to our home design, and that's absolutely fine, because we all want to feel comfortable and at ease in our homes. One of the reasons Canadian wallcoverings are so highly effective for personalizing design is that there are so many different options. Whether you're looking for colorful or neutral, patterned or abstract, textured or flat, geometric or floral —Wood wallcovering offers a million ways to add your own individual impact to any space.
When narrowing down which style of wallcovering might work for your home, start with some research to see what kind of wallcoverings you like. What colors, patterns, themes or textures are you drawn to? Chances are you'll find something you loveif you spend time looking for inspiration. Doing research will allow you to see all the beautiful options available to you and get excited about adding it.
2. Wallcoverings Don't Need to Overwhelm
These days, there are loads of awesome geometric prints that capture a contemporary and high-energy vibe. In the right space, geometric wood wallcoverings can feel light and fun, and add a playfulness to your room, even if the pattern or color is more subtle. If bold or colorful prints don't capture your heart, turn to more understated options to create the look and feel that you're after.
Perhaps a small-scale print or an abstract pattern feels more natural in your space. Or maybe a solid or textured print feels more true to your personal style. The addition of wood wallcoverings, no matter how subtle, can go a long way to creating a personalized and beautifully curated look in your space.
3. Wallcoverings Can Be Beautiful – Capturing Emotion
In the past, wallpaper was most often used as a backdrop in any room, being slapped on every wall to make an impact. These days, there are so many beautifully crafted Canadian wallcoverings to choose from and many more ways to add a custom touch.
Choosing solid-colored, patterned wood wallcoverings can add a lush feel to your room design. Using a solid-colored wood wallcovering with a sheen can add drama and depth, as the light reflects off the paper to create a brighter and more textured space.
Pro tip: Solid-colored, dark wood wallcoverings can be dramatic and stunning in the right space. Rooms with any combination of tall ceilings, big trims and moldings or lots of natural light will be the best rooms to balance the boldness.
A feature wall is one of the easiest and most impactful ways to make a statement, using wallpaper like art. Featuring wallpaper on a single wall adds character, charm and individuality — like an original painting would. Feature walls also give you a chance to go big and bold with your paper choice so your wall really projects that art-like vibe.
4. Wallcoverings Work in Unconventional Spaces
Wood wallcoverings can be a great way of making a tiny, odd-shaped or unconventional room into a stunning space. Do you have a closet, a powder room or a nook that needs a little love? Wallcoverings sometimes makes the biggest impact in small or unusual spaces. Adding Canadian wallcoverings to an interesting area in your home is also an inexpensive way to add some serious design cred, as usually one or two rolls will do the trick.
Whether for a full-wall, a partial-wall or an odd-shaped nook, wallpaper can create a distinct design feature in your home, as well as a pretty focal point in your space. In choosing which wall to feature, it's helpful to stand back in your space and take note of your options. There are always options when it comes to which wall(s) to highlight, even when it looks to be an obvious choice. Sometimes getting creative when it comes to your wall selection can make for the most enjoyable and uniquely designed spaces.
5. Wallcoverings Are Not Forever
There are many horror stories online of home buyers who spent days, weeks and lots of dollars removing decades-old wallpaper from a new home. In many experiences, this is one of the main reasons many owners shy away from adding the beauty of wallpaper to their homes.
This is guaranteed to change with modern wallpapers & enhancements in technology! Contemporary wood wallcoverings in 2021 come with much better adhesives and will not create a mess once time comes around to removing them.
Hiring a Canadian wallcovering installer can go a long way to ensuring that you and your final selection have a long and happy life together. A professional installer will ensure that walls are properly prepped and primed, and that your wood wallcoverings are applied to last.
It will also ensure that your wallcovering will be easy to get off, should you want to remove it one day. We have a dedicated page with our most trusted installers in Canada, with a directory of installers and their specialty.
Helpful Resources
If you decide to install the wallcovering yourself, you may need to prime your walls before applying the paper. Buying good-quality adhesives will enhance the staying power of your wallpaper, and ensure easy stripping if that day should ever come.
Check out our Installation Guides & Technical Information to get more information on installation and maintenance procedures for the most common wallcoverings in Canada.